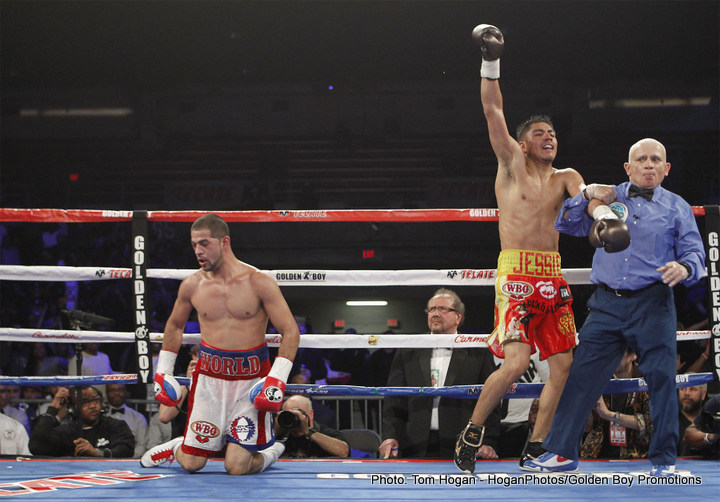 Last night on HBO Boxing After Dark, Jessie Vargas (27-1, 10 KO's) defeated Sadam Ali (22-1, 13 KO's) with a technical knockout in the 9th round.  The fight began as a chess match with Ali and Vargas trading rounds through the first half of the fight.  Ali basically outboxed Vargas in rounds 1, 3, and 5, while Vargas outboxed Ali in rounds 2,4,and 6.  The 4th round ended in dramatic fashion with huge flurries from both fighters, and could have been scored a 10-10 round.  The fight was dead even though the first 6 rounds, and it would come down to who wanted it more.  It ended up being Jessie Vargas.
Ali would get the better of vargas in the 7th round, putting together nice combinations, but that would be his last hoorah.  Jessie Vargas landed a huge right hand that he set up with his jab, at the end of the 8th round.  He put Ali down, and Ali would never recover.  Ali would come out of his corner in the 9th, with his right eye almost completely closed, and no legs under him.  Vargas would land another huge right hand in the 9th, that would result in a second knockdown.  The referee would accidentally give Ali extra time to recover, but it made no difference.  Vargas would jump right back on Ali (who was being closely watched), and nail him with one more huge right.  The referee would be forced to stop the fight, and Vargas would pick up his first KO in a very long time.
The final punch stats were very close though.  Jessie Vargas landed 159 of 428 punches (37%), while Ali would land 118 of 408 (29%).  Jessie Vargas improves to 27-1, and takes home the vacant WBO Welterweight championship.  Sadam Ali suffers his first professional loss, and falls to 22-1.  After the fight, Vargas clearly expressed that he wants a rematch with Timothy Bradley, whom he almost knocked down in the 12th round of their fight.  That fight was stopped prematurely, when the referee thought he heard the final bell.
-David Jukic, INSIDE RINGSIDE