Last night on HBO Boxing After Dark, we were all lucky to see two wars happen, as Takashi Miura (31-3-2, 24 KO's) defeated Miguel Roman (56-12, 43 KO's), and Miguel Berchelt (31-1, 28 KO's) made a name for himself by upsetting the previously undefeated Francisco Vargas (23-1-2, 17 KO's).  Both fights were absolute wars, but very different from each other.  Both fights will have a chance to be Fight-of-the-year candidates for sure, and both fights definitely shortened the careers of all 4 participants.
Miura and Roman both known for their offense and definitely not their defense, did not disappoint.  Miura seemed to have the advantage in the first few rounds, as he was more active and accurate.  Towards the middle of the fight, Miguel Roman almost took the fight over with his combinations, and staying busier then Miura.  Miura looked spent by the 7th round, and was even asked by his trainer if he wanted to continue.  The never say die Miura of course would not quit, but knowing that he was spent, he believed he needed a KO.  Loading up with every punch, Miura finally caught Roman with one of the most vicious body shots i have ever seen, and put him down in the 10th round.  He would put Roman down in the 11th as well, and still feeling the effects of that body shot, Roman would go down for good in the 12th from another flurry of punches.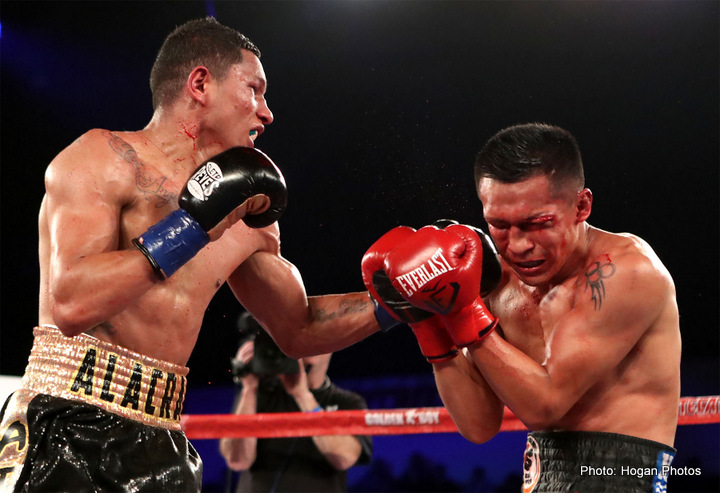 In the main event, we saw another banger, as Miguel Berchelt stepped up to the challenge, and defeated Francisco Vargas.  Vargas looked good in the first few rounds, but Berchelt was game to weather the early storm, and apparently trust his conditioning to go into deeper waters.  For someone that has never been past 6 rounds in his career, he looked great in the second half of the fight.  They would clash heads several times, and a very deep and wide cut would open up above Vargas' left eye.  Berchelt Capitalized on this opportunity, and began to pepper Vargas with huge shots.  Vargas, with all the heart in the world, continued to fight, but by the 9th round, Berchelt took a commanding lead on the scorecards.  Perhaps it was due to the fact that Vargas had blood in his eye for pretty much half the fight and coildnt see the punches coming on his left side, but Berchelt was beating o him pretty good.  With no chance to win, the referee stopped the fight in the 11th round, and saved Francisco Vargas from himself.  It was apparent that neither man would go down, and the only thing that could have happened is that Vargas would just sustain more and perhaps permanent damage to his eye.
-David Jukic, INSIDE RINGSIDE