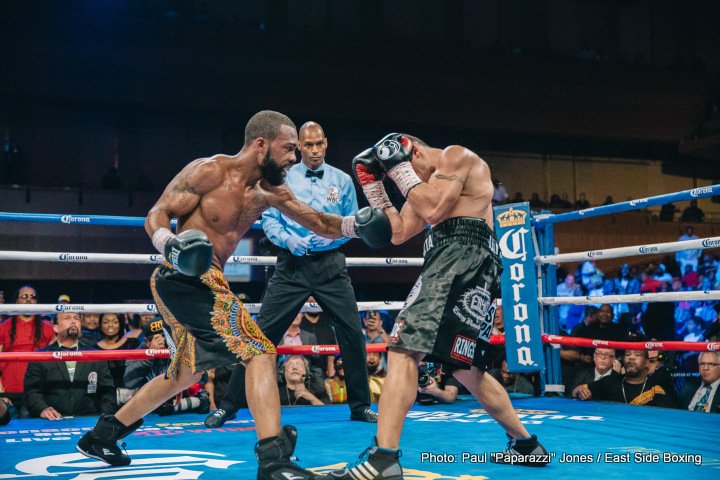 This past Saturday night, May 20th 2017, Gary Russell Jr (28-1, 17 KO's) successfully defended his WBC Featherweight title, when he defeated Omar Escandon via 7th round technical knockout.  From the opening bell, Russell's hand speed advantage was evident, as he clobbered Escandon with combinations.  Escandon was game, and in certain rounds was able to give Gary some fits.  Russell however, being the more skilled of the 2 by far, would counter with combinations throughout the whole fight.  In the 7th round, Russell would fire off a vicious combination, and put Escandon on jelly legs.  Russell then closed in and fired off a huge straight left, and as Escandon was going down, the referee would stop the fight.
Saturday also produced one of the biggest robberies in boxing history, as all three judges gave Rances Barthelemy (25-0, 13 KO's) the victory by a wide margin over Kiryl Relikh (21-2, 19 KO's), in a fight that Barthelemy clearly lost.  Also, Andre Dirrell (26-2, 16 KO's) defeated Jose Uzcategui (26-2, 22 KO's) by disqualification, after Uzcategui knocked Dirrell out with a punch that he threw after the bell.  What happened after was a shocker.  Dirrell's uncle came into the ring and cold clocked Uzcategui with a bare fist, before running out of the ring.
Gervonta "Tank" Davis (18-0, 17 KO's) stole the show however, as he made his first defense of his IBF Junior Lightweight title, when he defeated unbeaten Liam Walsh via 3rd round TKO.  Davis felt Walsh out for the first 2 rounds, and then in the 3rd, he pounded walsh against the ropes with combinations.  Walsh somehow got off the ropes, but took a vicious left to the head that put him down.  Walsh got up, but with no legs under him, and Davis went in for the kill.  Davis landed 2 punches and the fight was stopped in the 3rd.
-David Jukic, INSIDE RINGSIDE