What was supposed the be the marquee matchup of 2017, proved to be just that when Canelo Alvarez (49-1-2, 34 KO's) took on Gennady Golovkin (37-0-1, 33 KO's).  Sadly the fight ended in a controversial draw.  So who was at the heart of the controversy?  Yes, you guessed it, none other then judge Adelaide Byrd, if she can even be called a judge at this point.  GGG and Canelo fought all 12 rounds in what proved to be a magnificent fight, with everyone thinking that Golovkin had won at the end of 12 rounds.  I scored the fight personally, and had GGG winning 116-112, same score as Harold Letterman, which means Golovkin won 8 of the 12 rounds.  Judge Dave Morreti scored the fight 115-113 in favor of Golovkin which was a very fair score.  Judge Don Trella scored the fight 114-114, which depending what you were looking for, is not terrible, even though I clearly thought Golovkin won.  And then there was Judge Adelaide Byrd, who scored the fight 118-110 for Canelo Alvarez.  That scorecard means that she only gave Golovkin 2 winning rounds out of 12, which is completely absurd given the fact that GGG dictated the whole fight, and landed way more punches then Canelo did.  As a result for her atrocious scorecard, Byrd has been benched for the rest of 2017.  In my opinion, she should definitely be suspended for a long time and heavily fined, if not thrown out of boxing all together.  By the way, this is not her first highly questionable scorecard.  There have been a few others, including a UFC fight, but we won't get into that right now.
Golovkin came out strong with the jab in the first round, and as a result, outlander Canelo.  In the second round, Canelo seemed to bounce back, and look a lot more comfortable, all the while countering effectively.  In the 3rd round, GGG hit Canelo with a monster body shot, the first one he threw, and for a split second, it looked like Canelo was a goner.  Since the third round, Canelo was on his horse, backing up pretty much the rest of the fight, and fighting off the ropes.  GGG also took the 4th round, in which Canelo seemed to still be feeling that body shot.  The 4th was one round that Adelaide Byrd gave to GGG.
According to Byrd, GGG would not win another round until the 7th, when he hit Canelo with a hellacious overhand right.  Thinking he had the fight won, GGG slowed down in the 11th and 12th, and pretty much gave away the rounds.  On the flip side, it really looked like Canelo got the "you have to KO him to win" speech, because he came out guns blazing in the 11th, after no doing much the previous 2 rounds, and continually being trapped against the ropes.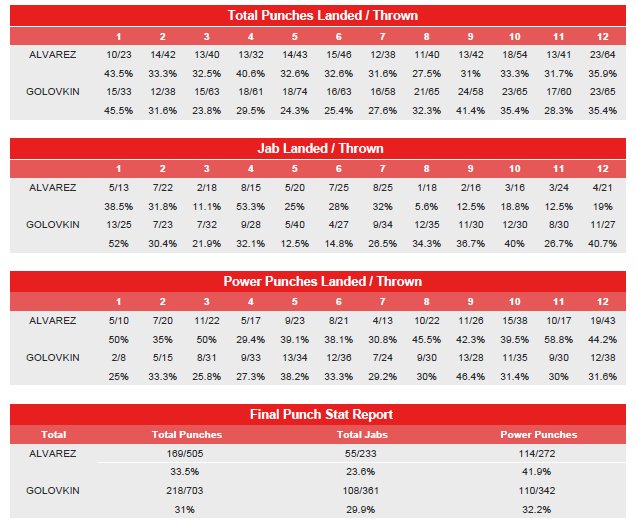 These are the final punch stats for the fight.  Lets take round 9 for example.  GGG landed 24/58 (41%) punches, while Canelo landed 13/42 (31%) punches.  That's an 11 pinch difference.  So how could Byrd have given Canelo that round?  The fight of the year was turned into a disgrace by a corrupt judge.  If she isn't corrupt, she is totally incompetent.  Either way, she should not be a judge any longer.  By the way, what was in that envelope that Oscar De La Hoya was spotted handing to her?  This fight should be reviewed by 3 other judges that had nothing to do with it, and this decision should be overturned.  Golovkin should be the Unanimous Decision winner!
-David Jukic, INSIDE RINGSIDE