Last night on ShowTime Championship Boxing, Mikey Garcia (38-0, 30 KO's) joined the likes of Floyd Mayweather, Manny Pacquiao, Juan Manuel Marquez, among a very few others, to win a world title in a 4th different weight class.  Garcia defeated Sergey Lipinets (13-1, 10 KO's) via unanimous decision, to add his name to that very short list of legends.  The night began however, with a rematch between Rances Barthelemy (26-1, 13 KO's) and Keryl Relikh (22-2, 19 KO's), because of their highly controversial first meeting.
In their first meeting in 2017, Rances Barthelemy and Keryl Relikh fought to a highly disputed decision, that had Barthelemy winning by a wide margin, even thought Relikh almost double him in landed punches.  This would not be the case last night however, as Relikh was well prepared for that scenario to arise again.  Relikh averaged 110 punches per round last night, and Barthelemy had absolutely no answer for his punch output.  Its worth to note that Barthelemy was deducted a point yet again for low blows, which would make it the 4th time in his career that it has happened.  Relikh defeated Barhtelemy by Unanimous Decision, and captured the vacant WBA Junior Welterweight title, the very belt that Terence Crawford relinquished when he moved up to welterweight.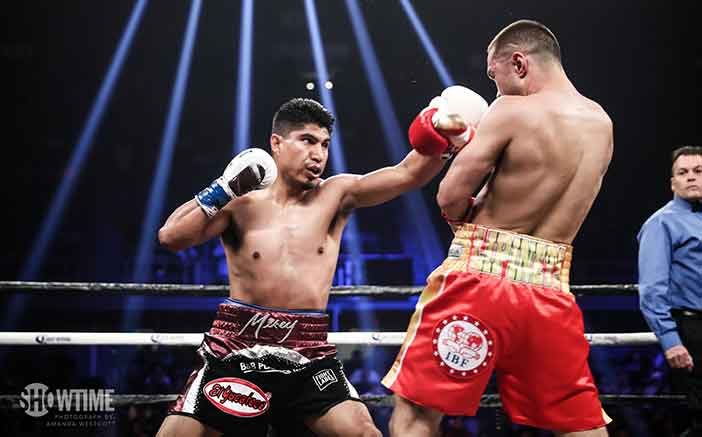 The main event was a banger last night, as Mikey Garcia defeated Sergey Lipinets via Unanimous Decision, to capture the IBF Junior Welterweight World title.  The first round was a chess match, as neither fighter was willing to throw very many punches, due to the fact that they wanted to feel out the other guy.  The Lipinets jab proved to be more effective then we thought, but Garcia was able to adjust in the middle rounds and find a home for his right hand.  There were a lot of close rounds in this fight, but then at the end of each one, Garcia would get the upper hand.
In the 7th round, Lipinets seemed to be coming on strong, but made one huge mistake, which led to Garcia pulling away on the scorecards.  Lipinets thew a jab followed by an uppercut, to set up his big left hook.  The problem was, after the right uppercut, Lipinets did not pull his right back quick enough, and left himself wide open up top.  Garcia saw this coming, and nailed him square in the middle of the face with a counter left hook, which caused the first knockdown of Lipinets' career.  Garcia would finish strong, and after a wild and close 12th round, we went to the scorecards.  All three judges were in favor of Garcia with scores of 117-110/117-110/116-111.  I scored the fight 116-111 as well, and had Garcia winning 8 of the 12 rounds.
-David Jukic, INSIDE RINGSIDE