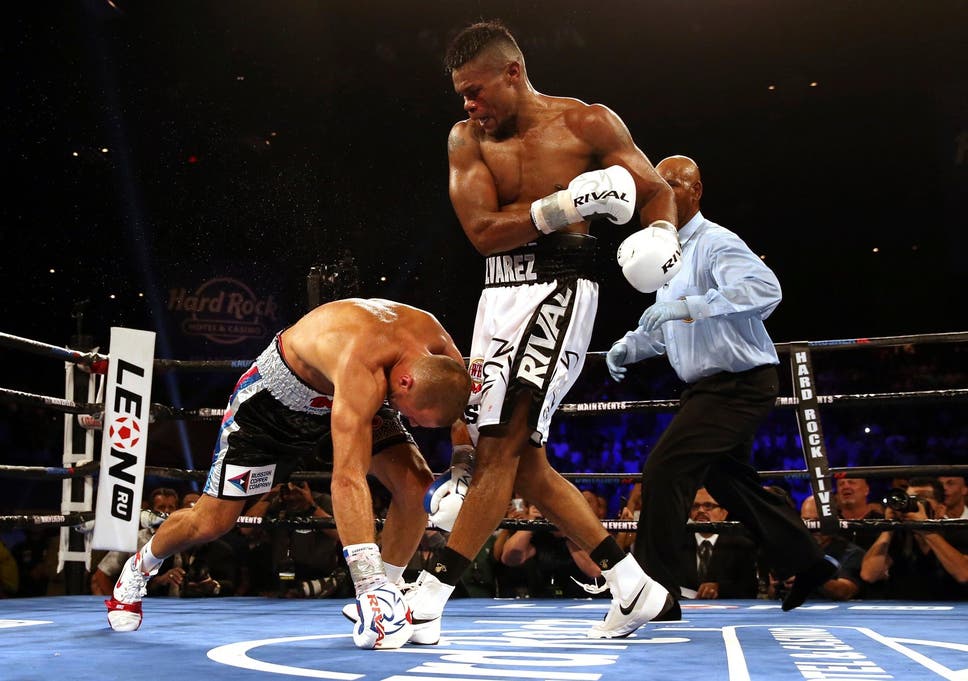 Sergey Kovalev's (31-3-1, 27 KO's) reign as Light Heavyweight Kingpin came to an end on Saturday night, when Eleider Alvarez (24-0, 12 KO's) knocked him out in the 7th round of their championship bout.  Alvarez has waited for his opportunity for a number of years now.  He has been the mandatory challenger for Adonis Stevenson for quite some time now, but never got the opportunity to fight the WBC champ.  Adonis has been known to dodge his mandatory contenders so this was nothing new.  Sergey Kovalev defended his WBO title against Alvarez, and the results are not favorable for Kovalev.
Sergey Kovalev looked to be in complete control of the fight in the beginning.  I scored 1 round for Alvarez through the first 6 rounds.  Kovalev out worked Alvarez in rounds 1 & 2.  Alvarez landed so big inches in the 3rd that seemed to bother Kovalev a bit, but at that point he was in no real danger.  Kovalev came out in the 4th, out working Alvarez, and landing the more meaningful punches.  The 5th and 6th rounds were more of the same, and things were not looking good for the challenger.
With a little over a minute left in the 7th, Alvarez nailed Kovalev right in the temple with a huge right cross, and Kovalev went down hard.  Temple shots tend to throw of equilibrium and take long to recover from, and Kovalev was not looking good.  About 15-20 seconds later, Kovalev walked right into a left hook that Alvarez followed up with a right hand, and Kovalev went down again.  He would get up before 10, and continue.  Pretty much on dream street, one punch would end the fight, and thats exactly what happened when Alvarez nailed him again.  The referee stopped the fight, and just like that the reign was over.  Eleider Alvarez is the new WBO Light Heavyweight champion, and the #1 fighter in the division.
-David Jukic, INSIDE RINGSIDE